Atlanta's Red Mass service, luncheon to honor judge, lawyer battling human, sex trafficking – MDJOnline.com
Atlanta's Red Mass service, luncheon to honor judge, lawyer battling human, sex trafficking – MDJOnline.com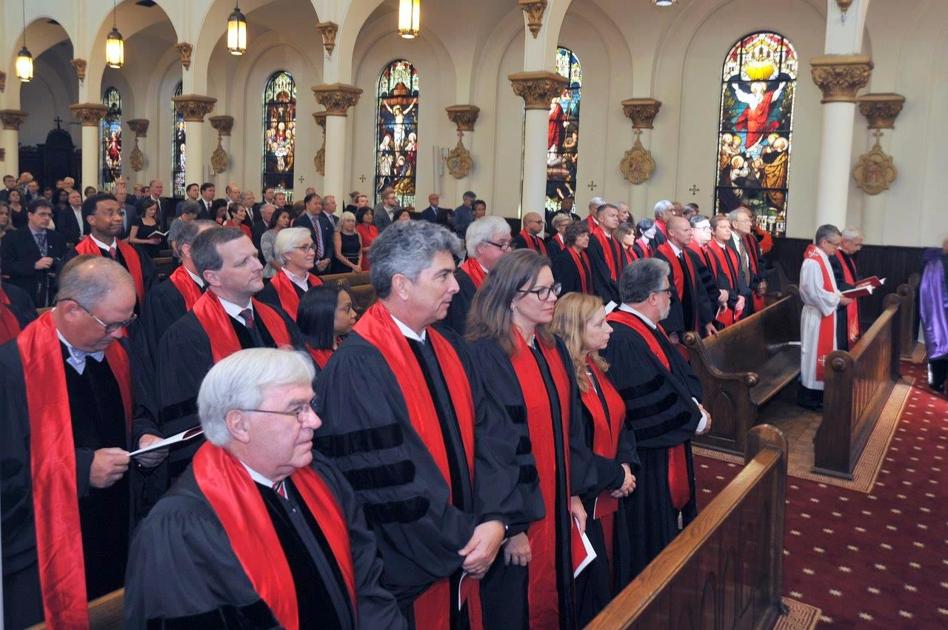 Thursday at 11 a.m., Atlanta's judges, attorneys and legal professionals of all faiths will join other public officials at The Basilica of the Sacred Heart of Jesus downtown (353 Peachtree St.) to celebrate a traditional Red Mass to mark the beginning of a new judicial year and to seek blessings for the judicial system and pray for peace and justice. Sponsored by Atlanta's St. Thomas More Society, an association of Catholic lawyers (www.stm-atlanta.org), the service is an ancient one with roots going back to the Middle Ages. The judges will assemble in their judicial robes and process into the sanctuary together.
The service will be followed by an awards luncheon at the Capital City Club (7 John Portman Blvd.) honoring two legal professionals who have devoted much of their careers to fighting human and sex trafficking in Atlanta and the United States. The 2018 St. Thomas More Society Award recipients are:
o Richard W. Story, U.S. District Court judge for the Northern District of Georgia – Story is a trafficking expert for the U.S. Department of Justice and U.S. Department of State, and trains members of the legal profession in dealing with the criminal and social impacts of human trafficking. His work in this arena has taken him across Georgia and around the world.
o John A. Horn, partner with King & Spalding LLP and former U.S. attorney for the Northern District of Georgia – As U.S. attorney, Horn worked to combine the efforts of law enforcement, the State Department and the Department of Labor in north Georgia to prosecute those who traffic children and adults and to identify how and where human trafficking insinuates itself into the community and economy. He collaborated closely with state and local law enforcement agencies to multiply their joint efforts to address trafficking.
"The trafficking of adults and children throughout the world is a tremendous problem," Brent W. Herrin, managing partner of Small|Herrin LLP and the society's president, said in a news release. "Unfortunately, criminals exploit Atlanta's international airport and freeway system to move their victims through Atlanta, making our city a human trafficking hub. Our honorees have fought to prosecute those who kidnap and exploit others for many years. John Horn helped pioneer a multidisciplinary human trafficking task force and led a team of prosecutors who convicted more than 30 defendants of human trafficking and sex trafficking.
"Judge Story has worked on an international scale to share information and experiences on crimes, perpetrators and victims of human trafficking. Judge Story also helps train judges, prosecutors and victims' rights advocates on the many legal and social implications of human trafficking. We are proud to recognize these individuals for their tremendous work in this area and shine a light on the ongoing issue of human trafficking."
Atlanta's Archbishop Wilton D. Gregory will celebrate the Red Mass with assistance from clergy throughout the Archdiocese of Atlanta. The clergy will be robed in red vestments, traditionally signifying the outpouring of the Holy Spirit upon God's people, while the judges will wear their robes and red stoles. The one-hour service is open to people of all faiths.
"The St. Thomas More Society has the unique privilege of bringing together clergy, judges, attorneys and public officials of many faiths in prayer and celebration for our legal community and the higher virtues it should serve," said Herrin. "Every year, we are honored to recognize our award recipients, all of whom have devoted themselves to improving the lives of others and tirelessly serving their communities. It is our goal to provide an ecumenical, nonpartisan and nonpolitical event where all of us who serve in the administration of justice can come together to pray for each other and share a meal as we recognize and celebrate those in our community who have manifested a commitment to justice and humanity."
The first recorded Red Mass was celebrated in Paris in 1245. From there, it spread throughout Europe. During the 1300s the tradition began in England for all members of the bench and bar to attend as the opening of each term of court. The name "Red Mass" refers to the scarlet robes of the judges who attended the service centuries ago, as well as the color of the vestments worn by the clergy.
Today in the U.S., the Red Mass is celebrated annually in a number of cities, including Washington, where U.S. Supreme Court justices, members of Congress, diplomats, Cabinet members and, often, the president attend, all in their capacity as private individuals. Since 1993, Atlanta's St. Thomas More Society has embraced this tradition by sponsoring the Red Mass at The Basilica of the Sacred Heart of Jesus downtown, and the service has become a regular event on Atlanta's legal calendar.